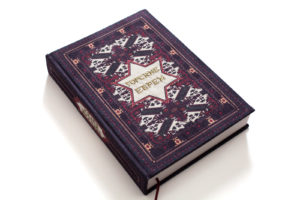 The unique edition "History and Culture of Mountain Jews" is the result of the enormous work of a group of researchers from Russia, Israel and other countries.
It included well-known scientists and researchers of the Mountain Jewish problematics in history, demography, anthropology, ethnography, linguistics, cultural studies, art, musicology, and other fields of scientific knowledge from Russia and Israel. These are experts such as M.S. Kupovetsky (Moscow), docent at the Russian State Humanitarian University, I.G. Semyonov (Makhachkala), Doctor History, Dr. Hen Bram (Jerusalem), Dr. K. Feferman (Beit Shemesh), Yu.I. Murzakhanov (Nalchik), Ph.D. in History, Piris Eliyagu (Abu Gosh), composer and musicologist, Dr. B. Haimovich (Jerusalem), Dr. L. Mikdash-Shamailova (Jerusalem), S.A. Charny (Moscow), Ph.D. in History, V.A. Dymshits (St. Petersburg), Doctor of Chemistry, researchers E.M. Nazarova (Moscow), K. Shalem (Ramat Gan) and great specialist, the patriarch expert in history, language and culture of Mountain Jews, Doctor of Chemistry, Professor M.Ya. Agarunov (Bat Yam), a reviewer and author of several texts.
This book is the present day level of science on history and culture of Mountain Jews. Each of the authors is an expert in this or that field of humanitarian knowledge who offers to the reader their own research efforts, developments and achievements.