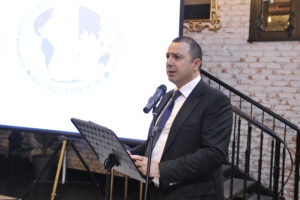 Presentation of the book "History and Culture of Mountain Jews" was held on March 5 at the Baku Book Center. Officials, members of Azerbaijani Parliament, foreign guests, representatives of creative circles of the society took part in event organized by the World Congress of Mountain Jews (WCMJ).
A documentary about the Mountain Jews was also screened at the event.
The head of WCNJ, a native of Azerbaijan Akif Gilalov, in his speech said that Azerbaijan is an example of religious tolerance, a country in which representatives of different nationalities and religions live in peace and harmony. He added that Azerbaijanis and the Mountain Jews are connected with the centuries-old relations of fraternity and friendship.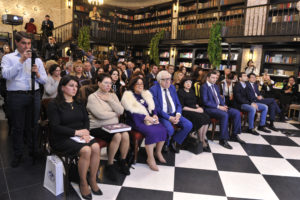 Ph.D. in political sciences Mehseti Aliyeva, famous journalist Elmira Akhundova, Chairman of the Italian delegation to the OSCE PA, deputy chairman of the Foreign Relations Commission of the Italian Chamber of Deputies Paolo Grimoldi, director of ASAN radio Emin Mousavi, chief rabbi of the European Jewish Community of Azerbaijan Shneor Segal, Israeli expert on international relations Arieh Gut also spoke at the event.
The presentation included exhibition of rare photographs and archival documents reflecting the history, culture and life of the mountain Jews. Baku city researcher Fuad Akhundov delivered a lecture on theme "Jews of Azerbaijan: Caucasian Jerusalem or the Great Destiny of a Small People".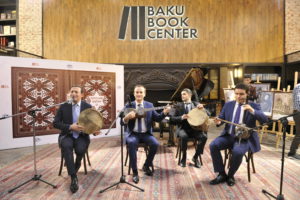 The dance ensemble of the Baku Choreographic Academy, the Karagakh mugham trio, led by People's Artist Movsum Ibrahimov, pianist V. Aydemirov and tar player I. Babayev performed at the event.
Guests were also offered a buffet of national kosher cuisine of the Mountain Jews.
The unique edition "History and Culture of Mountain Jews" is the result of the enormous work of a group of researchers from Russia, Israel and other countries.