The largest Mountain Jewish community of North America is found in Brooklyn, New York. Outside New York, small groups of Mountain Jews also live in Baltimore, Detroit and Chicago. Some Mountain Jews managed to get to the USA in the first half of the 20th century; however, the dissolution of the USSR increased emigration to a considerable degree.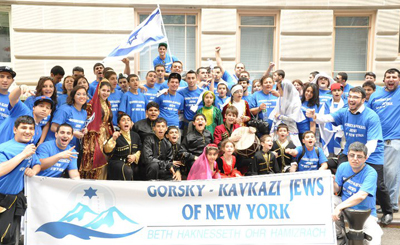 In 1994, Mountain Jews, who then numbered nearly 3,500, opened their first synagogue on Foster Avenue, New York. In 1997, the community moved to a Chabad synagogue, and in 2001, it managed to open its own synagogue, Ohr Hamizrach. Torah donations have become a popular method of supporting the community, and currently the synagogue has as many as ten.
In the 2000s, pre-Yom Kippur trips to Queens to visit the tomb of Menachem Mendel Schneerson, a Lubavitch rabbi, became a tradition for the Mountain Jews of New York.
Every June since 2004, the New York community of Mountain Jews has hosted a community day. In 2006, Brooklyn's President Marti Markovitz published an official decision designating June 15 as Mountain Jew Community Day in Brooklyn.
Since mid-2000, the New York community of Mountain Jews has been holding a solidarity parade with the Holy Land of Israel. Politicians and the mayor of New York join the procession.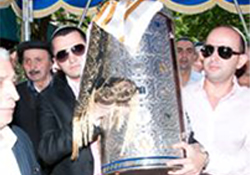 Since 2010, with support from the International Charity Fund for Mountain Jews (STMEGI), Mountain Jewish Culture Days have been held in New York.
In the early 2000s, there was a KVN comedy show team of Mountain Jews called Yuzhni Temperament (Southern Temperament).
In December 2011, the Tovushi Mountain Jews Center opened in New York with the support of philanthropist Victor Abaev. At its center are the Kavkaz dance ensemble, the Lezginka NYC dance ensemble, a soccer team, visual arts studio, chess club, and studio to learn to play the guitar and drums.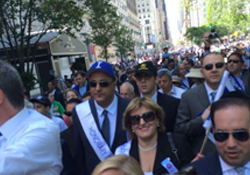 On June 23, 2016, the municipality of Brooklyn awarded Viktor Abaev among those who made the most significant contribution to the development and strengthening of cultural and social values.
In addition, the community also supports the Beit Juhuro educational center that opened in 2014. The center offers classes on the Torah, Jewish history and the Juhuri language. Women are offered classes in baking hallas for Sabbath. The center preserves the culture of the Mountain Jews and provides young Mountain Jews with a place to meet.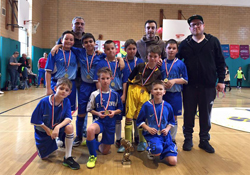 Since 2003, the Russian-language newspaper Novy Rubezh (New Achievement) has been published in New York (chief editor N. Yevdayev, 1929). According to N. Yevdayev, the newspaper allows "community members to feel more deeply that they are a part of the traditional values of their people, and most importantly, help reveal and maintain their consciousness to give them the energy to adapt in a new social environment, the energy to overcome a new frontier in a new life, and to occupy a worthy position in a new environment." The newspaper publishes materials in four languages: Russian, English, Mountain Jewish and Azerbaijani. Between 2003 and 2014, it was sponsored by the International Charity Fund for Mountain Jews (STMEGI), and later by businessman Oleg Movsumov.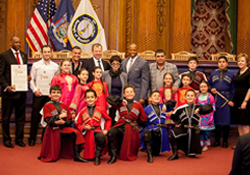 Since 2006, Tovushi magazine has been published with support from Viktor Abayev; initially it was a quarterly periodical, but starting in 2009, began to be published monthly. The circulation is 10,000 copies, with 6,000 sent to other communities. Tovushi magazine is designed to unite Mountain Jewish communities spread out all over the world. "We strive to preserve the traditions and customs cultivated by many generations of Mountain Jews, and pass them down to our children. We talk about the life, events and cultural news of our communities in America, Russia, Israel, Germany, Canada, Azerbaijan, Australia and other countries," the editorial board shares. The magazine runs a Juhuri language learning section by famous poet Rashbil Shamayev (USA) and Zori Kavkaza (Dawns of the Caucasus) magazine publisher Asaf Mushailov (Canada).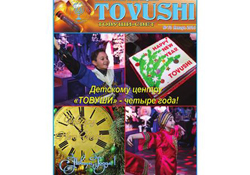 Since 1996, writer Joseph Migirov has lived in New York (1951). In 2014, a two-volume edition of I. Migirov's selected works was published and officially presented in Tovushi in New York. I. Migirov received the Literature of the Year 2014 award for this book. In 2012, S. Danilova published Children of War, memoirs of Mountain Jews who, as children and adolescents, survived WWII. A poet and community activist, Rashmil Shamayaev (1935) also lives in New York. In 2015, he published Zindeguni-Neguli written in Juhuri.